Spreading our roots in the global market, Matrix Technologies has become one of the prominent names in the industry as a leading supplier, manufacturer and exporter of various kinds of holograms. The organization is operating in around 35 countries, thus helping the clients to enhance their performance and position. We work with the aim of offering secure genuine products and documents by fighting against infringement and duplicity.
With the constant efforts, our organization is growing faster with consistent development and profitability of our clients. With large branches in the major cities, the company has become a trendsetter by offering innovating cutting-edge holographic products. Turn out to be the most trusted manufacturers, our range of products deliver their own path of security solution to our customers against upheaval caused by duplicity and infringement. Ours is an ISO 9001:2008 certified company and have a prime motto to focus on the customer's satisfaction by fulfilling their security needs.
Serving our customers with the best range of holographic products in different form, we put some extra effort in making big companies a bit better in present competition. With the assistance of around 300 employees, our products are successfully exported to various countries including:
Germany
USA
Netherlands
France
Kenya
Greece
Czech Republic
Poland
Spain
Mexico
Canada
Ecuador
Peru
Uruguay
Argentina
Colombia
Ivory Coast
Nigeria
South Africa
Zimbabwe
Tanzania
Mauritius
Uganda
Ethiopia
Iran
Afghanistan
Turkey
Nepal
Russia
Japan
Philippines
Singapore
Srilanka
Bangladesh
China
Saudi Arabia
Yemen
Qatar
Maldives
Korea
As the requirement of hologram products is booming in today's business world, millions of people across the globe are opting for them to indicate the authenticity of their branded products. We have a single minded goal to succeed in our mission of offering high degree security solutions. As the technology is playing an important role in various industries for manufacturing purposes, we opt for latest laser techniques to make crucial advancements in our organization.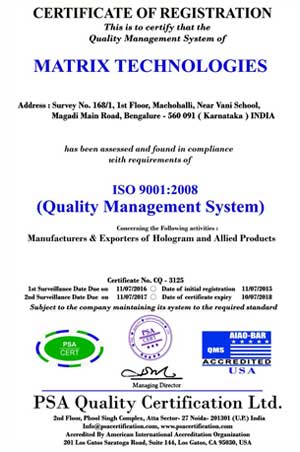 Aiming for consistent profitability, growth and development of our clients, our organization is topping the chart by experiencing varied business techniques.
We are highly acclaimed in both national and international markets for supplying high quality security solutions in the form of hologram products. Our clients can avail them in varying colours, shapes, sizes and designs.
Our marketing network with branches is widely spread in most of the metropolitan cities including Bangalore, Hyderabad and many more.
By using the cutting edge technology and most advanced machines, we have laid a trend of delivering products within the time fram
Being a client centric organization, we considered our client's requirements as a prime priority. We believe in focusing on an excellent customer service and leave no stone unturned to deliver consistent along with quality. In order to safeguard the branded products and documents from any situation of forgery and duplication, our organization offers high security condition and bring innovative solutions time to time. Gaining the vast knowledge of the present industry, we are competent enough to offer new and innovative products to our clients following latest researching and building exclusive knowledge.
A hologram is used in many industries for its variegated applications by protecting the branded products and confidential documents from any kind of pilferage, counterfeit or replication. Mainly holography technique along with laser technology is used for the fabrication reason. The above technique scatter the light from object and make it look like a three dimensional image. Moreover, the hologram is integrated with the required information and images that can be seen in an illuminated holographic print under the laser light.
In today's modern world, holograms can easily be found in each and every sector of business. As the holograms contain confidential information, these can be available in the form of labels and stickers that gives different visual effects when seen through different angles. There are certain mentioned applications of the holograms for various products including:
Incense sticks and cigarettes
Computer peripherals
Beverages
Credit cards, driving license, Visa and passportv
Cheques, currency and demand draft
Government documents
Garments
Perfumes and chemicals
Books and stationary
Electrical products
Vehicle number plate